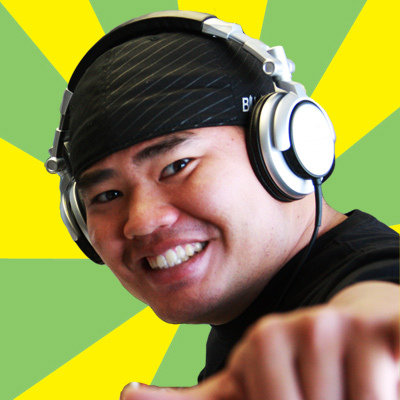 Aaron Mikami is on weekends starting at 2pm.
Hometown: Kaimuki
Siblings: 1 older sister (Michele)
High School: Home of the Crusaders(Saint Louis)
Happy place:  On the toilet cause I can just let loose haha
Tattoos:  do stretch marks count?
Favorite Football team: High School-Saint Louis Crusaders, College-Oregon Ducks and Pro-Dallas Cowboys
Favorite Bands/Artist:  Ho'onu'a, Kapena, Three Plus, Natty Vibes, The Green Band, Ho'aikane, Fiji, J Boog, Common Kings, Ekolu, Nesian N.I.N.E., Anuhea, Kimie, Ho'okoa, Sudden Rush, Siaosi, Jay Keys, Micah G, Hot Rain, The Steppas, Kolohe Kai, Rebel Souljahz, Opihi Pickers, Koa'uka, Justin Young, Mark Yamanaka, Na Hoa and everyone else that I got a chance to work with.  Sorry if I didn't list you but trust me, you're not forgotten.
Fav Foods:  Japanese, Hawaiian and Korean
My fav shows:  Hawaii Five-O, WWE RAW and the news(I'm a closet nerd haha)
Celeb Crush:  Chelsea Unemori, Elisa Asato and Kaz Masutani(to me they're celebs and also my friends lol)
Fav Stores: Anything that I can afford.
Fav restaurant: Well if you look at me, you can tell that I love to eat so I had to break it down into categories.
Local style food: Corner Kitchen
Korean: Kim Chee 2
Hawaiian: Ono's Hawaiian Food in Kapahulu and Helena's
Japanese:  Morimoto's
Sushi:  Sansei's
Fav Pick up line: If you were a booger, I'd pick you first.  Just FYI: it never worked for me yet.  Lol
Best thing to ever happen to me:  Being hired at KCCN FM100.  I don't consider what I do work cause I have way too much fun doing what I do.
Something that people don't know about me: I was apart of the first ever HHSAA state championship football team in 1999 and I have 2 classmates that are Na Hoku Hanohano Award winners(Ikaika Antone from The Green Band and Halehaku Seabury-Akaka from Na Hoa)